SAT / ACT Help
SAT / ACT / SAT Subject Tests (Private Tutoring Services):
We Provide One-on-One Teach-Tutoring for the Following Standardized Tests:
SAT:

Critical Reading, Writing (including Essay), Math

SAT Subject Tests:

Mathematics Level 1, Mathematics Level 2, English Literature, Biology E/M, Chemistry, Physics, French

ACT:

Science, Reading, Math, English (including Essay)
SAT / ACT / PSAT / SAT Subject Tests: ePrep Courses, including Practice Tests & Vocabulary Builder:
At The Teaching Tutors, we are also pleased to offer the following discounts off ePrep courses! Save an additional 5% discount off when you sign up for The Teaching Tutors free newsletter!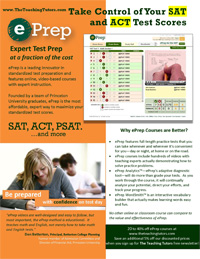 The ePrep SAT Premium course guarantees that you'll increase your score by at least 300 points!
*For a detailed description of each course, please position the pointer over the course title.
To purchase an ePrep course, please click on the link for that course and add it to your shopping cart!
To watch the ePrep video tour and receive a free 7-day trial, click here, and then click on Guaranteed Results!
Check out what students and parents are saying about ePrep!
"My daughter had two goals: to break 700 on math and 2000 overall, and so far, she's .met both thanks to ePrep." - Karen, Parent
"The videos explained clearly and it was great to see the actual score I would get." - Brittiney, Student
"Freshman year at Princeton has been awesome so far. Thanks, ePrep!" - Doug, Student
"I love having a video explanation for each mistake. It's more effective than a written explanation." - Olivia, Student
*ePrep is endorsed by Fred Hargadon, former Dean of Admissions at Swarthmore College, Stanford University, and Princeton University.